we think you're going to love these
Zak Play 17.5 ounce Stainless Steel Tumbler with Bluetooth Speaker, Teal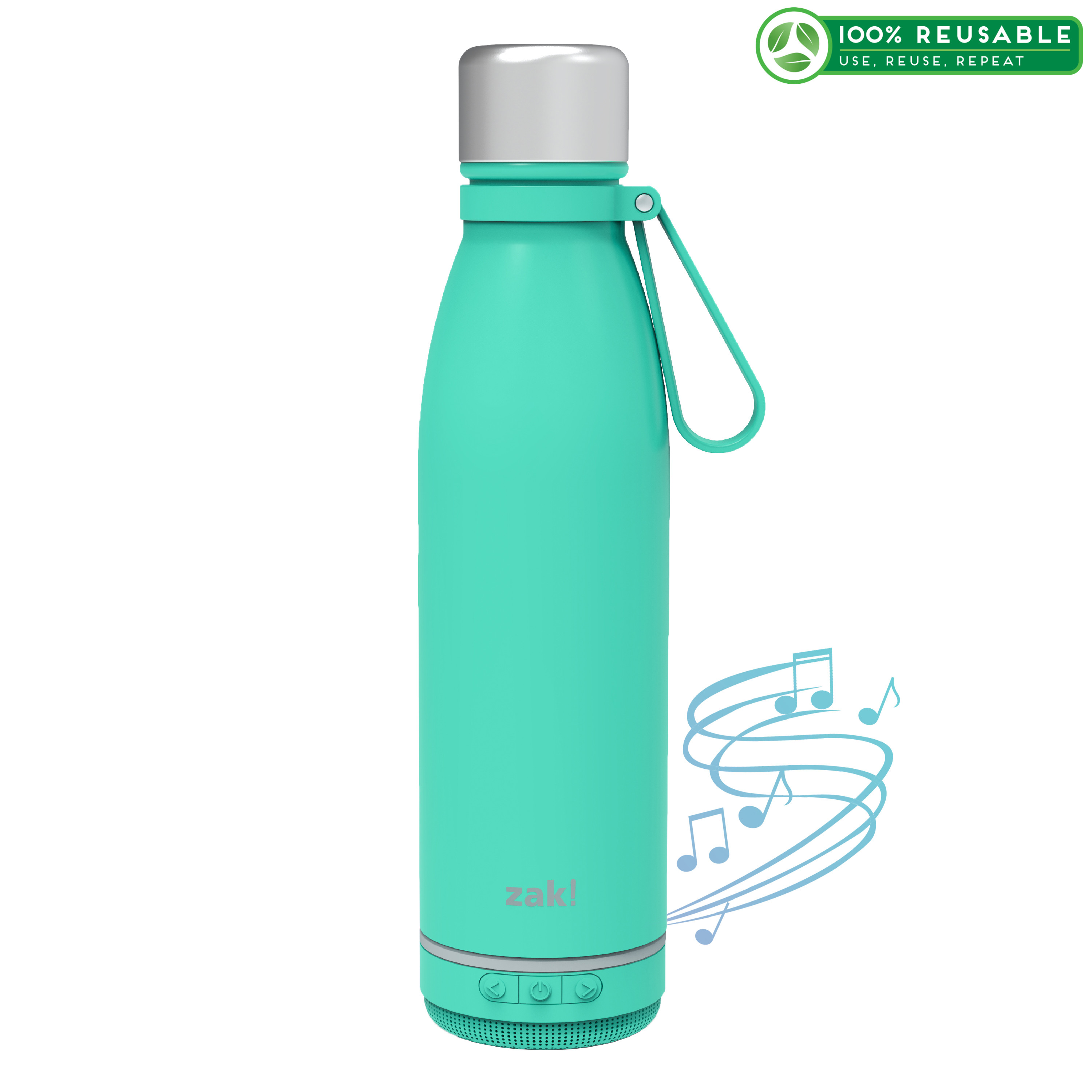 Enjoy music and a beverage with the zak!play wireless speaker bottle!
Sync and share your music while you are on the move--this two-in-one water bottle has a removable speaker built into the base. You can keep your playlist front and center without needing an extra hand for a separate wireless speaker, and pump it up even further with the integrated lights that flash while music is playing. Using the included USB charging cable, the speaker fully charges in 1.5 hours, and it's fully compatible with any Bluetooth® device. The bottle has a carrying loop and a leak-proof cap, letting you rock out to your heart's content. It's made of durable stainless steel, with vacuum insulation to prevent condensation and keep your beverage colder for longer. The 17.5-ounce bottle should be hand washed with the speaker removed, and the speaker can be wiped clean with a damp cloth. Everything is completely BPA free; do not microwave.
Removable speaker in base lets you enjoy your music and beverage at the same time
Integrated speaker lights flash when music is playing
Recharges in 1.5 hours, includes USB charging cable
Compatible with any Bluetooth® device
Vacuum insulation keeps drinks cold for longer and prevents condensation
17.5 oz capacity
Made of durable stainless steel
Bottle is BPA free - committed to safety
Hand wash tumbler, wipe speaker with damp cloth
$39.99
Dayton 10 ounce Vacuum Insulated Stainless Steel Tumbler, Black, 2-piece set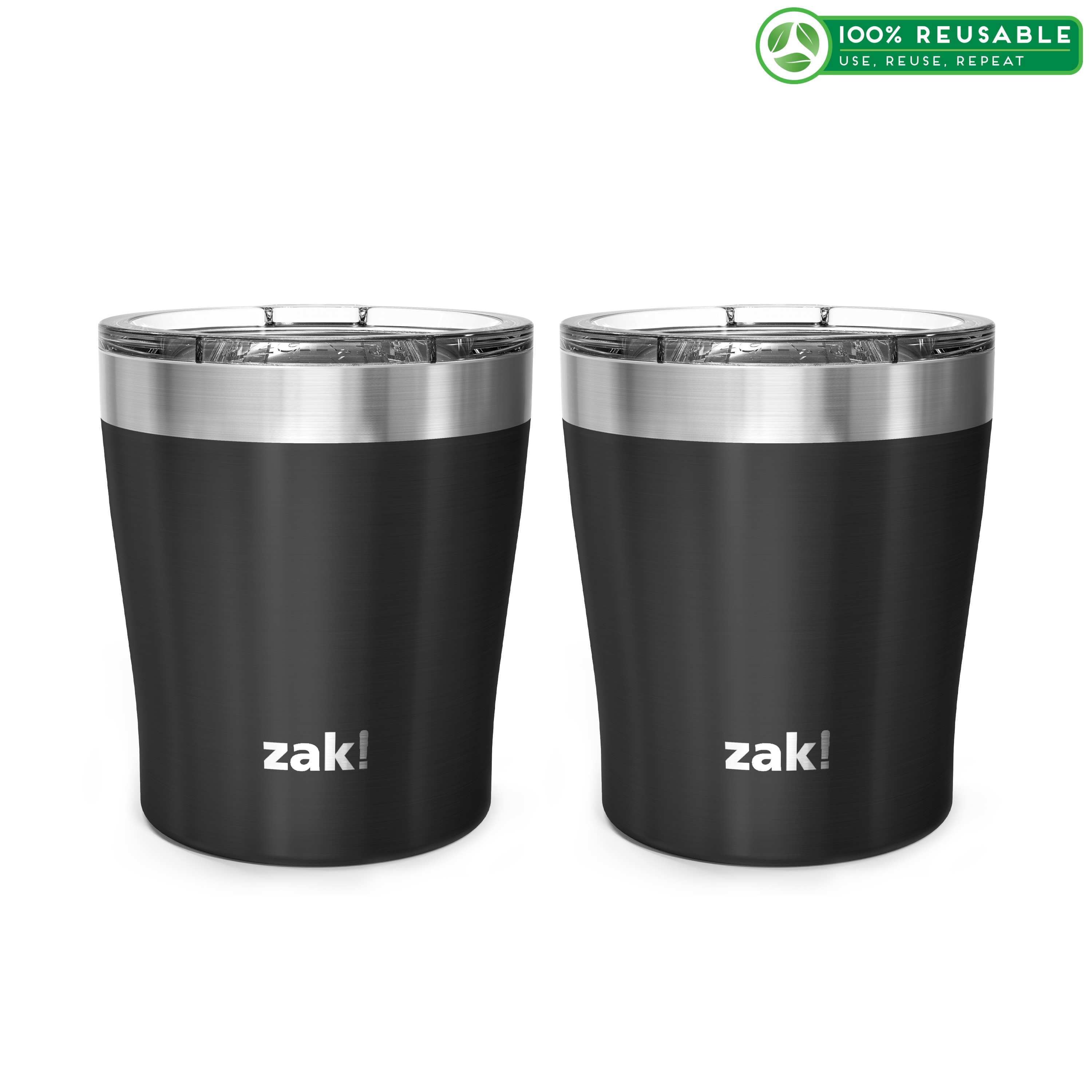 Have a drink and chill out with this stainless steel lowball tumbler!
For those who like to take their time sipping their favorite beverage, but hate lukewarm drinks and melted ice, this 10-ounce tumbler is the solution. it is made of double-wall stainless steel with vacuum insulation, so it will stay condensation free while keeping your drinks the perfect temperature for longer. The press-in lid has a sliding cover to help reduce splashes and spills and can be washed in the dishwasher, though the tumbler should be washed by hand. Everything is completely BPA free as well. Do not microwave.
Vacuum insulation keeps drinks hot or cold and prevents condensation
Press-in lid has slide cover to prevent splashes
10 oz capacity
Made of durable stainless steel
BPA free - committed to safety
Hand was recommended, do not microwave
$22.99
Genesis 18 ounce Water Bottles, Panda, 2-piece set
Change the way you hydrate with this reusable water bottle!
Mix and match with different bottles and lids in the Genesis line--you can sip or chug as much as you want. But no matter what you decide, there are plenty of features you can always count on: the lid has a hygienic cover to keep the spout clean, which opens easily at the push of a button, and disassembles for easy cleaning. Your grip will stay secure, with grooves molded into the sides of the 18-ounce bottle and a carrying handle built into the lid. And since it is made of durable plastic, everything is long-lasting, completely BPA free, and dishwasher safe. Do not microwave.
Push-button lid is watertight but easy to open
Lid has built-in handle for transport
Bottle has easy-grip grooves for drinking
Lid is easily disassembled and works with other Genesis bottles and spouts
18 oz capacity
Made of durable plastic
BPA free - committed to safety
Dishwasher safe, do not microwave
$18.99
#myzak in action
We love to see how you use your Zak products—tag your Instagram posts with #myzak